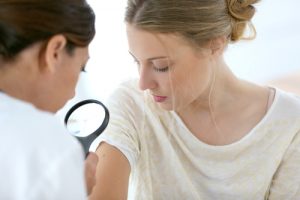 Dr. Jennifer Upitis of the Toronto Dermatology Centre is a skin care specialist, providing care and treatment for those living with medical dermatology concerns. Dr. Upitis treats patients of all ages, from children and teenagers to adults and the elderly, including those who are pregnant or breastfeeding. If your physician has referred you for dermatological treatment, working with a skin care specialist in Toronto will ensure you receive the best treatment possible.
What Does Medical Dermatology Encompass?
Skin Lesions
Skin lesions encompass a significant range of issues that appear within or on top of the skin itself. This includes age spots, benign or malignant skin growths, birthmarks, calluses, cysts, moles, scars, stretchmarks, and more.
General Skin Care
General skin care issues are common problems or sensitivities that may become difficult to live with as time persists. These can include dry skin, diabetic skin care, hyperhidrosis (excessive sweating) and sun care concerns.
Acne & Similar Conditions
At some point, almost everyone will have to deal with acne and related skin concerns that come with it. Whether they are the result of hormonal changes, cystic and severe acne, or interrelated issues like rosacea, there are solutions available to clear and restore the appearance of the skin.
Skin Cancers
A skin cancer diagnosis can be a shock, but for many of these diagnoses dermatology can help. The most common skin cancer-types include: Basal cell cancer, squamous cell cancer, and malignant melanoma. Depending on the type and severity, there may be topical or surgical options to remove problematic growths or tumors.
Inflammatory Skin Condition
Inflammatory skin conditions may seemingly appear at any time, and be difficult to live with. This includes problems such as eczema and atopic dermatitis, keratosis pilaris, pityriasis alba, psoriasis and more. Should you not have a flare up at the time of your appointment, pictures of recent outbreaks will be necessary.
What to Expect at Your Appointment
When you book a medical appointment with Dr. Upitis, you can expect to have the upmost care and attention paid to your dermatological issue. You will need a referral from a physician faxed to Toronto Dermatology Centre. As well, you require a valid OHIP card. It is recommended to bring certain documentation with you to your appointment including:
List of current medications
List of any medications prescribed over the counter for skin treatment
If the condition comes and goes, photos of the rash or skin irritation when it is active